At The Federation of Spixworth Schools we will inspire every child through words. Through engagement in language rich classrooms we will open worlds of opportunity. High quality texts will develop enthusiastic writers where experimentation with words is supported alongside development of skills in the technicalities of writing. Our children will communicate in all its forms with a pleasure and passion that will open doors, across subjects, to the possibility of realising endless dreams and lifelong learning.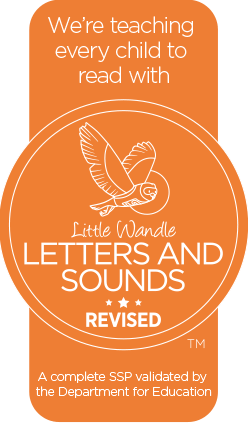 Our Approach to Teaching Phonics
At Spixworth Infant School we use the Little Wandle Letters and Sounds programme for teaching phonics. All children have a daily interactive phonics session where they are taught each of the 40+ phonemes (sounds) and how these are recorded (graphemes) in words for reading and writing.
Part of the Little Wandle Letters and Sounds programme uses rhymes and actions to make phonics learning as memorable as possible. We also incorporate phonics learning in the outdoors, particularly in the EYFS.
At the end of Year 1 the children undergo a phonics screening check. We have excellent outcomes in phonics. Please see our Outcomes section under Key Information to view our most recent results.